---
MSc in Developmental Psychology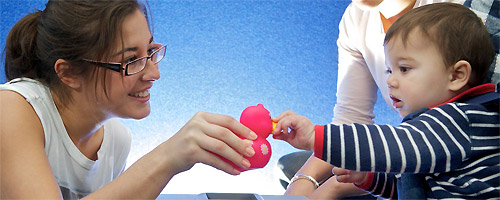 The aim of this course is to develop expertise in a "common core" of psychological research methods, while allowing students to deepen their knowledge of a diverse range of areas in developmental psychology.
Who is the course for?
The course is aimed at graduates who:
Wish to progress to a PhD in developmental psychology
Wish to boost their research skills en route to clinical or educational psychology training
Require additional developmental knowledge to apply to their work environment
Why Lancaster?
A uniquely broad spectrum of expertise in human development

As part of one of largest and best-resourced centres for developmental work in the country, staff research and teaching covers a wide range of topics, from applied developmental psychopathology to basic research on the social, cognitive and neuropsychological foundations of human development.

Teaching combines small group tuition with innovative, student-led teaching methods

Course modules with options allow students to explore areas of personal interest.

Advanced level training in research design and statistics is complemented by excellent equipment and research facilities

This includes a Macintosh Laboratory with the latest software and a number of specialist research laboratories.

State of the art facilities

The degree's launch in October 2002 coincided with the completion of the new Centre for Research in Human Development, a state of the art facility for developmental research.

Reputation

Our department has developed an outstanding reputation for research in a number of areas (e.g. developmental psychology, cognitive psychology, neuro-psychology and social psychology). All members of staff are actively engaged in research.
Course Structure
Michaelmas and Lent Terms (Oct - Easter)

Students take five taught modules. Assessment is usually by two essays and/or pieces of practical work per module, to be completed by the end of the term in which the module is taught.

Summer Term and Vacation (Easter - Sept)

Students complete a research project under the supervision of a member of staff and prepare a dissertation for submission in September. Assessment of the dissertation may involve an oral examination at the discretion of the examiners.

Modules

Compulsory: (students take all four)

Analysing and Interpreting Data
Analysing and Interpreting Data 2
Developmental Psychology
Conducting and Presenting Psychological Research

On completion of these compulsory courses you will have acquired a high level of statistical competence using SPSS software, training in research design and methods, and a broad range of knowledge about the fundamental issues of concern to developmental psychologists today.

Options: (students choose one from the following)

Developmental Disorders
Experimental Research Methods in the Study of Infant Development
Variation in Working Memory

Note that new options are continuously being created and this list may vary from year to year.

Research Dissertation

In the final term, students complete an original, independent research project on a developmental topic under the supervision of a member of staff.

Course length:

12 months full-time, 24 months part-time
How to Apply
Candidates should have an honours degree in Psychology or in any related discipline (normally a 2:1 degree classification or above). Please note that a BPS accredited psychology degree is not essential.
Overseas students also need to demonstrate their competence in English Language, by achieving, for example, an IELTS score of at least 6.5 or TOEFL score of 580.
Please visit our online application portal to apply.
What Our Students Say

"Since finishing the MSc in Developmental Psychology, I have progressed to PhD study at Lancaster, investigating language acquisition in typically and atypically developing children"

"The range of modules available on the MSc in Developmental Psychology allowed me to develop my specialist interests and provided me with an excellent grounding in child psychology"
Fees and Funding
Information about course fees is available from Lancaster University's Student Registry .
Our postgraduate funding page has info on postgraduate funding opportunities.
More information
Questions about our courses can be directed to Clare Race or Nadine Wilson, the Department's Postgraduate Coordinators:
Tel: +44 (0)1524 594975
Fax: +44 (0)1524 593744


For the latest postgraduate psychology information, have a look at our facebook page
Psychology careers
What do our Masters graduates do next? find out where a postgraduate degree could take you: