Our lab is in room A65 in Bowland North.
Arriving by bus
If you're coming by bus get off at the underpass stop and go up to Alexandra square. Locate the Santander bank branch: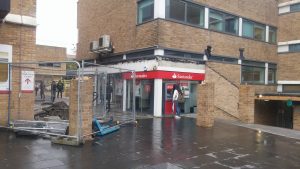 and walk up in that direction for about 100 meters (or 140 steps), you will walk past the Subway restaurant and Blackwells book shop (keep walking for about 50 meters after Blackwells). Turn left when you see the sign below: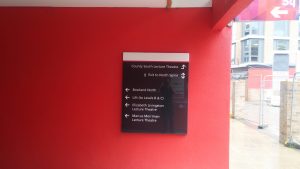 which is opposite the chemistry building pictured below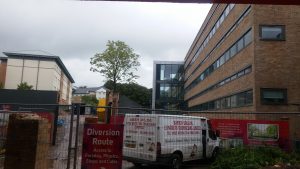 walk past the court and take the first entrance to the left. Room A 65 is located in that building.
Arriving by car
The closest visitor parking zone (pay and display) is the one near the chaplaincy (zone A: Bowland Avenue/North West Drive in the map here). Locate the building facing the chaplaincy with the writing "welcome center" pictured below and walk towards it: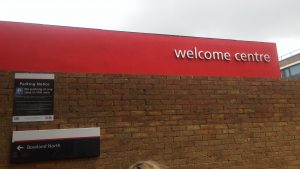 then turn left. Room A 65 is located in that building.
A map of all the available visitor parking zones is available here. For most parking zones the ticket costs £2 for 2 hours or £5 for a full day. For the sports field car park parking costs £3 for up to 10 hours. This car park is visible at the bottom left of the map marked with the letter 'K', and should not to be confused with the Sports Centre car park. Access to the sports field car park is from Green Lane rather than the main University entrance. Reaching the lab from the sports field car park by walk should take less than 10 minutes. Parking in the Alexandra Park car park costs £3 for a full day, but this car park is located at the edge of campus and it will take about 15 minutes to walk from there to the lab. Parking is free on all parking zones after 6pm.