---
PsyPAG Postgraduate Student Conference
Wed 17 - Fri 19 July 2013
Lancaster University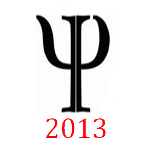 Lancaster University is hosting the 28th Annual PsyPAG Postgraduate Student Conference this July.
PsyPAG is a national organisation for all psychology postgraduates based at UK Institutions. PsyPAG is run on a voluntary basis by postgraduates for postgraduates.
The annual PsyPAG conference provides the ideal opportunity for postgraduate researchers to come together and present their research in a supportive and friendly environment. Our aim is to provide a wide range of symposia and workshops to provide interest across the topics in Psychology and those from cross disciplinary research.
there's more info at the PsyPAG 2013 website, and you can follow the event on Facebook and Twitter to keep up-to-date with all the latest news.